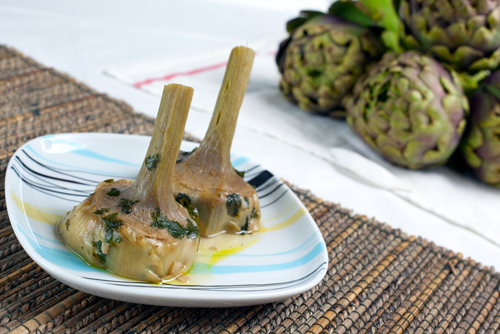 In Roman cuisine the artichoke is nothing short of king. It is served throughout the year, often with meat or fish, however it has to be said that almost no dish is complete without it.
Thanks to the ancient Jewish tradition that is very strong in the Italian capital, the Roman or Jewish-style artichoke – to name but two examples – are dishes that deserve to be sampled. The recipes in both cases are simple – the main difference between them being the cooking method. Artichoke alla Romana is cooked in stock whereas the Roman Jewish-style artichoke is cooked in hot oil.
Ingredients for 4:
4 Roman or violet artichokes
4 tablespoons of breadcrumbs
2 cloves of garlic
Salt and pepper
Extra virgin olive oil
To prepare the artichokes, remove the tough outer leaves and trim the purple spines on the remaining inner leaves. Cut the stems to about 3 cm, gently scrub them and then place the artichokes to soak in acidulated water. Then mix the breadcrumbs, garlic, parsley, mint, salt and pepper and season the inside of the artichokes. Salt the outside and heat them in a pan with a little oil. Fry them for few minutes, then add the stock and cook for about 30 minutes.
The Roman Jewish style artichokes are prepared in the same way, but once cleaned and opened they are just sprinkled with a little salt and pepper and boiled in oil for 20 minutes, drained and left to cool. Just before serving, they should be dipped in hot oil for a a few minutes to make them crispy.
The perfect match? A full-bodied white that can balance the intense flavor of the fried or seasoned artichoke : Canti's Prosecco Frizzante Doc is crisp and well-balanced, or try a Cataratto-Chardonnay IGT Sicilia with its a sunny and intense character.