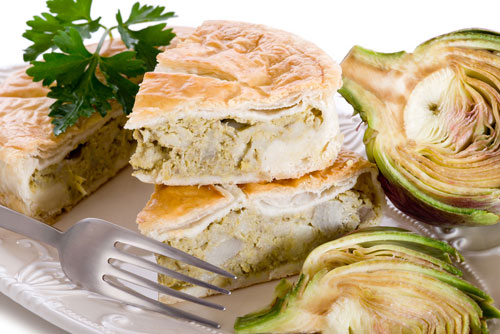 They have many different characteristics: artichokes can be prickly or smooth, green or violet, spring or autumn…so how to choose between them?
Obviously it comes down to taste, although it also depends on how you plan to cook them. The artichoke is one of the most common and most popular vegetables in Italy. It is grown in Sicily, Puglia and Sardinia but it can be found in the traditional recipes of many other regions such as Liguria and Lazio.
If you are planning an open air picnic this year take a tip from the North of Italy. In Liguria the picnic basket would never be without a slice of torta pasqualina: a typical Easter dish prepared with artichokes.
Ingredients for 6:
500 grams of puff pastry
800 grams of artichokes
500 grams of ricotta
grated Grana cheese
nutmeg, pepper, salt
extra virgin olive oil
10 eggs
Clean the artichokes, slice them thinly and cook in a pan with little oil. When ready, pour into a bowl, add the salt, pepper and 2 eggs, mix and set aside. In a second bowl mix the ricotta with 3 eggs, add a pinch of nutmeg, pepper and salt and the grated cheese. Roll out half of the pastry into a baking dish, add the artichokes, followed by the ricotta mixture and then the yolks of the remaining 5 eggs. Finally, cover with the remaining half of the puff pastry and bake for 45 minutes at 180°.
You can eat it hot (if you're at home) or warm (if you're going on a trip) accompanied by a cool glass of white wine like a Chardonnay-Pinot Grigio Veneto Igt from Canti – delicate enough not to 'conflict' with the decisive flavour of the artichoke.