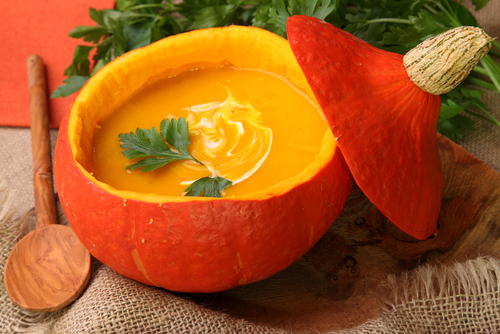 There are many different varieties, shapes, colours and flavours; you can find them in autumn and winter, but certain types peep out from the ground even in the summer.
If you don't appreciate their sweet taste, you can always conserve them by transforming them into a rustic ornament for the house or garden. However, if you find yourself with a pumpkin to hand at this time of year, close to Halloween, then it will be the little ones in the family who have a few ideas as to how to put it to good use.
From a culinary perspective, pumpkin is part of the Cucurbitaceae family, coming from South America – just like the tomato – but today it is used in many recipes all over Italy. In the southern regions the large, round, coloured varieties with the sandy yellow pulp are more popular, in the centre north however the long varieties are more common, with green skin and a more orange coloured pulp : they are excellent for jams or the legendary tortelli from the region of Padana.
And what is the best wine to toast such a great Italian ingredient? Taking its sweet but intense flavour into consideration, you could go for Canti's Prosecco Doc or a Pinot Grigio Veneto Igt that, for example, marries perfectly with this creamy soup.
Ingredients for 4:
600gr of pumpkin
150gr of potatoes
1 l of vegetable stock
2 onions
Aromatic herbs (thyme and oregano)
Extra virgin olive oil
Remove the pumpkin's peel and seeds, cut the pulp into little pieces and then peel the potatoes and cut them into small cubes. Next peel and thinly slice the onions. Fry the onions in a pan with 3-4 spoonfuls of oil and then add the pieces of pumpkin and the cubes of potato, leave them to soften and slowly add the vegetable stock.
Add the bunch of aromatic herbs and leave to cook for 25-30 minutes on a low heat. Once cooked, remove the bunch of herbs and use a blender until you get the desired consistency. Add salt, black pepper and a drop of olive oil.
Serve hot with an abundant sprinkling of Parmigiano Reggiano and croutons.