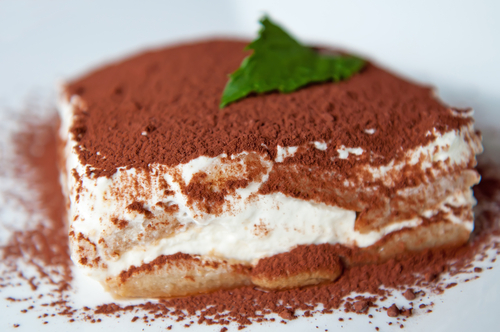 Sponge fingers, egg yolks, sugar, mascarpone, coffee and cocoa: voilà, one of the most famous Italian dishes in the world is ready to be served.
Legend has it that the first people to make tiramisu were Italian pastry chefs in the year 1600 – in celebration of the grandeur of the Grand Duke of Tuscany Cosimo dei Medici… But is this "regal" desert really so simple to make? Try this recipe but don't forget an important detail – tiramisu doesn't need to be cooked – this detail has helped make it a dessert loved by people of all ages.
Ingredients for 4:
250 gr of mascarpone
60 gr of sugar
3 eggs
200 gr of sponge fingers
Coffee
Chocolate shavings and cocoa powder
Prepare a cup of coffee, add sugar to sweeten and leave it to cool down. Once cool, immerse the sponge fingers in the coffee and lay them across the bottom of a dish. Mix the egg yolks with half of the sugar and leave to one side. Next whisk the egg whites with the remaining sugar. In a separate dish, mix together the mascarpone, egg yolk and sugar mixture and the egg whites. Add a layer of the resulting cream to the sponge fingers, sprinkle with a few chocolate shavings and then start again with another layer of sponge fingers, cream and then chocolate. When you have used up all of the ingredients, finish with a sprinkling of cocoa powder on the top.
Chill the dessert before serving it with a nice cool glass of Canti's Asti DOCG: a sweet sparkling wine capable of marrying mascarpone and chocolate, and of "cleaning" the palate of this creamy, luxurious dish.