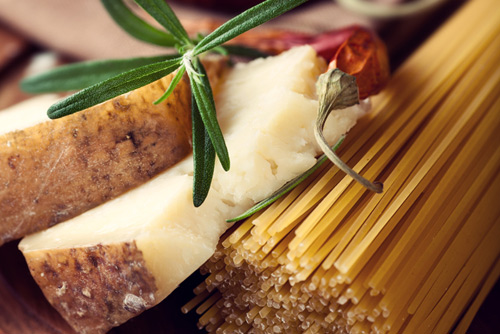 It ranges from a milk white to an intense straw yellow, its flavour can be sweet, aromatic and even tangy, it is soft and crumbly, although more matured cheeses have a firmer texture, and it makes perfect flakes.
Pecorino is one of the oldest Italian cheeses, it is produced in various regions on the peninsula and each regional variety has its own characteristics. The best known is pecorino sardo: a white cheese, sometime with added spices, produced from sheep milk in the provinces of Cagliari and Nuoro in Sardinia. Equally well known is the pecorino toscano produced in the area of Crete Senesi and Chianti, and lastly there is the more seasoned pecorino romano.
Due to its intense flavour, this cheese lends itself well to role often played by parmigiano reggiano, completing pasta dishes such as the classic Roman cacio e pepe (made with cheese and black pepper). It is a quick and simple dish, but should however be matched with a good structured white wine, such as a Gavi Docg from Canti or a sparkling wine such as a Pinot Brut.
Grate the pecorino whilst bringing a pan of lightly salted water to the boil. Add the spaghetti. Once cooked, drain and pour into a warm dish. Add a spoonful of the water used for cooking, the pecorino and black pepper according to taste. Mix well until the sauce clings to the pasta and serve immediately, adding a further sprinkle of pecorino on top.