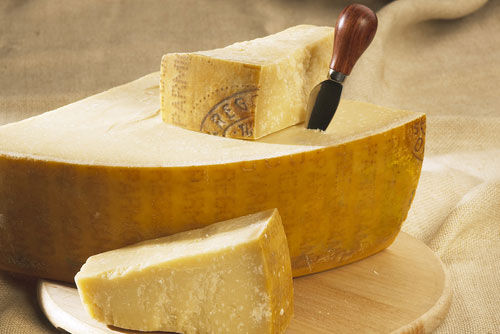 In order to see how it is maturing, it is "hit" with a special hammer to ensure that there aren't any imperfections: real parmesan – Parmigiano Reggiano – is carefully tended, down to the smallest detail, throughout the entire production process.
Made by combining the milk produced from milking first in the evening and then again the following morning, this hard, flaky, grainy cheese, is matured for at least twelve months.
However, if you want that something special, you will need to wait at least eighteen months: only then will you discover the unique taste and flavour that lends itself as the perfect accompaniment to Italian carpacci meat dishes (when grated) is served with vegetables (in flakes), and is even used as an appetizer or snack (served in cubes).
There are many recipes that bring out the best of parmesan: we suggest a classic, quiche Lorraine, served with a chilled glass of Canti's Pinot Brut.
Ingredients for 4:
200gr of bacon
150gr of Parmesan Cheese (Parmigiano Reggiano)
300ml of cream
Nutmeg, salt & black pepper
Roll out the dough and line the bottom of a greased baking dish. Prick it with a fork, cover with baking parchment and baking beans (or dried legumes) and bake at 190° for 15 minutes. Remove from the oven, remove the baking beans or legumes and return to the oven for another 5-10 minutes at 170° until the base is golden brown.
Slice the bacon into cubes and fry without oil for a few minutes. Remove the base from the oven, sprinkle on the grated cheese and bacon. Beat the eggs in a bowl with the salt, pepper and a pinch of nutmeg, then pour onto the base and bake in the oven at 170° for 15-20 minutes, until golden brown.
Allow to set for 10 minutes before serving.