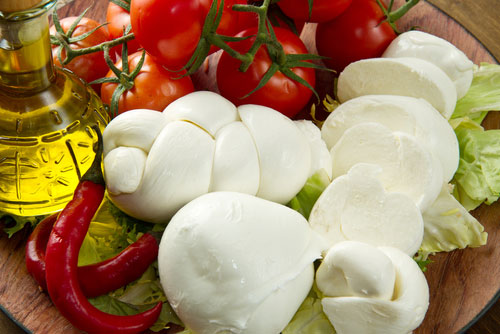 They use their thumb and forefinger in a precise and very decisive movement that only artisans are able to master: in this way the real mozzarella di bufala campana was first created by rolling the cheese through the hands.
Production is still restricted to the provinces of Caserta and Salerno – the territory in which water buffalos were first brought into Italy by the Normans – but today mozzarella di bufala is consumed worldwide. At least that is what its admirers would like to see, even if production capacity isn't great enough to supply such a vast area.
Real mozzarella di bufala has a pearly white colour, an unmistakable creaminess and a slightly acidic taste that makes it the perfect contrast and accompaniment to traditional rich Napolitan recipes such as pizza and pasta with aubergine, both dishes made with strongly-flavoured products (tomato and aubergine in particular).
Large in size (a good product weighs at least 500 grams), mozzarella campagna needs to be treated with a little "respect", without which the taste can be ruined: the cheese should be conserved only in ambient temperatures (so not in the refrigerator) and it should remain immersed in its whey to prevent it from drying out excessively. To appreciate the cheese, the recommendation is to consume it in its natural form, perhaps with a good glass of chilled Prosecco or Canti's Pinot Brut, a pleasurable accompaniment to a simple-to-prepare Caprese salad.
Ingredients for 4:
400gr mozzarella
2 large tomatoes
Oregano
A sprig of fresh basil
Extra virgin olive oil
Maldon salt
Slice the tomatoes – but not too thinly – remove the seeds and any excess water and leave them to marinate with a little oregano. In the meantime, cut the mozzarella into slices of about ½ cm thick. Make two "towers" of Caprese salad by alternating mozzarella, tomato and washed basil leaves, and complete the dish with a touch of Maldon salt and a drizzle of extra virgin olive oil.