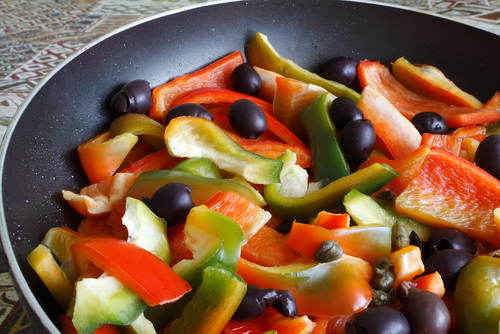 Hot, rich and spicy: peppers, fruit of South American origins (Brasil) first arrived in Italy in the 1700's and since then have become an essential part of traditional Italian cooking.
Thanks to the bright colours (green, red and yellow according to origin and maturity) and fresh, versatile flavour, you'll find peppers both in the recipes from the North of Italy, such as in its "piedmontese" version served with "bagna caoda" (cream made with garlic, olive oil and anchovies) and in recipes from central and southern Italy such as spicy dishes like caponate (a Ratatouille-likevegetable dish) or peperonate (sliced peppers cooked in oil, with onions and tomatoes).
Not everyone can tolerate the skin, so grill them, peel them, and season them with olive oil, salt, garlic and oregano! Alternatively, you could go for something a little more ambitious such as a peperonata, but this must be accompanied by a nice structured white such as a Gavi Docg from Canti.
Ingredients for 4:
1kg of mixed peppers (yellow, red and green)
350gr of tomato puree
300gr of red onions
7 spoons of extra virgin olive oil
Peel and cut the onions into medium sized slices, pour the oil into a large pan and when hot, add the onions and lightly fry them over a medium heat for 15 minutes.
In the meantime wash the peppers, cut them open, remove the seeds and internal filaments, cut them into strips and when the onions are cooked, add the peppers to the pan. Cover the pan, and let the mixture simmer over a low flame for at least 30 minutes.
Then add the tomato puree, salt and pepper to taste and remove from the heat.