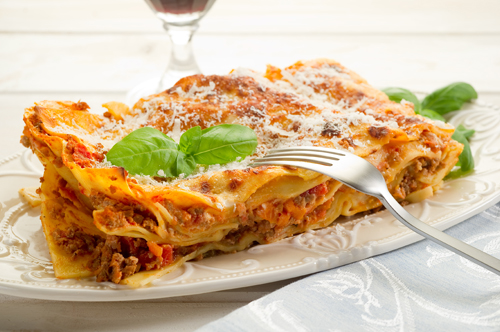 A typical dish from the Emilia Romagna region, and specifically from the city of Bologna, lasagna is appreciated all over the world for its magical combination of meat, cheese and pasta that could only have been created in a country like Italy. Whilst it is easy to prepare, in order to do justice to this dish, it is important not only to select ingredients of the highest quality but also to use the correct proportion of each one.
Ingredients for 4:
150 gr of grated Parmesan cheese
500 gr of béchamel (white) sauce
For the sauce:
100 ml of stock
20 gr of butter
125 gr of minced beef
125 gr of minced pork
½ carrot
½ onion
1 stick of celery
Extra virgin olive oil
50gr of cubed bacon
150 gr of tomato puree
Salt and pepper
Red wine
Bring the stock to the boil. Wash then thinly slice the carrot, onion and celery and brown them in a pan with two spoonfuls of oil and the butter; add the cubed bacon, the minced meat and half a glass of wine. Then add the tomato puree, season with salt and pepper and cook for at least two hours, adding stock as necessary.
Next, put a layer of lasagne into a greased backing tin, cover it with béchamel sauce and then a layer of the meat sauce, sprinkle a layer of grated parmesan and then repeat the process. Top off the dish with a generous layer of parmesan. Bake in the oven at 160°: the lasagna is ready when the top layer has turned a golden brown.
The perfect match? A wine with body and taste such as a Merlot Sangiovese Sicilia IGT or a Merlot Sicilia IGT by Canti: fragrant and intense, it is the perfect accompaniment to a rich dish like lasagna.