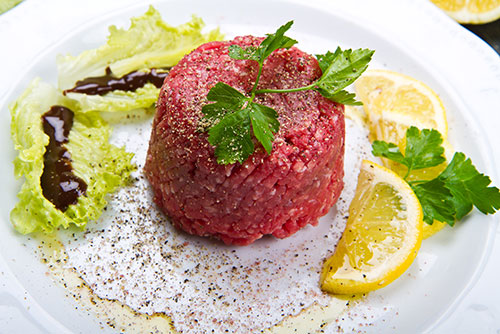 Today we are sharing a special tartare recipe signed by the Italian cook Massimo Camia, Michelin Starred Chef. It may seem complicated to prepare but all you need are basic ingredients of outstanding quality and the pleasure of cooking.
Ingredients for 6 people:
800g lean Fassone veal (it is also possible to use veal rump or escalope)
30g coarse salt
Black pepper to taste
200ml strong extra virgin olive oil (from Puglia or Calabria)
Half a tsp of Worcester sauce
1 tsp of Dijon mustard
1 clove of garlic cut in half
Half a tsp of anchovy paste
Flakes of semi-matured parmesan cheese
Cut the veal into slices, then into sticks and then small cubes. Place the chopped veal and all other ingredients, except the parmesan cheese, into a bowl. Mix well using 2 forks, place spoonfuls of meat on the plate and press gently into a rounded flat style shape. Garnish with parmesan cheese and a sprinkle of black pepper.
The slightly fruity, fresh and intense bouquet of Canti Pinot Grigio I.G.T Veneto, makes it the ideal choice for this dish.