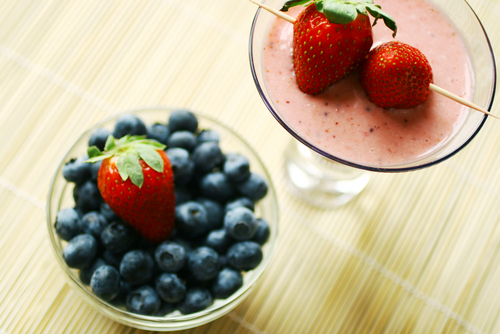 They are fresh, colourful, refreshing, low in calories and rich in vitamins: what better option is there on "the market"! Smoothies have become very popular both in the UK and the rest of the world. Prepared with fresh fruit and vegetables the only requirement is a blender!
The possible combinations and variations are almost infinite, and even if the "rule" states that milk or ice shouldn't be added, we can't exclude that option, or even that of including frozen or dried fruits and yoghurt. And for those who want to "risk" the addition of a touch of sparkle, add a splash of Prosecco Doc from Canti.
We're not talking about an alternative to a frozen Margarita, or a Piña Colada, but something just as exotic and fun to offer friends on a late summer afternoon.
Garnish your smoothie with dried fruit, or perhaps nuts or almonds if it is fruit-based, or spices (depending on the ingredients that you have chosen, ginger and nutmeg go well with many vegetables).
You could serve skewers of watermelon, strawberries and melon and little muffins made with yoghurt or carrots, offering both the option of both sweet and savoury. You will conquer the "summer gathering" with a happy hour made up of unusual, refreshing, light and very fashionable flavours.