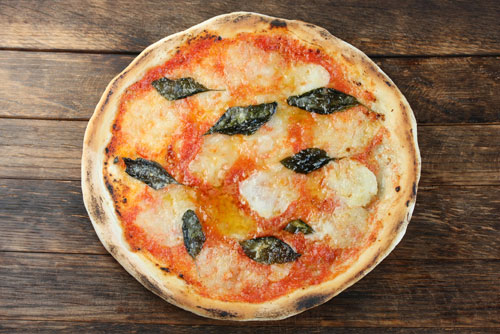 Flour, yeast and water…could there be anything simpler? Light, fluffy and fragrant, pizza is one of the best known Italian dishes, with fans all over the world.
It started life as a type of focaccia that was produced by the Egyptians, Greeks and Romans. However, it was the great gastronomic tradition of Naples that made pizza the "Queen of the table", and Naples is still today the rightful home of "real" pizza.
Ingredients for 4-6 people:
1kg flour
50gr yeast
20gr salt
6 tablespoons of extra virgin olive oil
A glass of lukewarm water
250gr of tomato sauce (purée)
Extra virgin olive oil and salt
A bunch of fresh basil
200gr of buffalo mozzarella
Sift the flour onto a pastry board, make a well in the middle and pour in the glass of lukewarm water. Add the yeast to the water and let it dissolve. Mix vigorously and then add the salt (dissolved in a little water) and the extra virgin olive oil. Continue to mix until the dough becomes soft and springy. Place the dough in a basin, cover with a cloth and leave it until it has doubled in size (approximately 1hour).
The next step is to roll the dough out onto a greased baking tray, spoon on the tomato purée (to which has been added a little olive oil, salt and fresh basil) and place in the oven at 200°. Just a few minutes before the pizza is ready, remove from the oven and cover with slices of mozzarella. Return to the oven and bake until the mozzarella has completely melted.
Nowadays you can easily find all the different types of pizza base, be it thin and crispy, the high, thick base or the "Neapolitan" version (which is somewhere between the two). However, what makes the real difference is the quality of the ingredients.
Use only the best buffalo mozzarella and fresh tomato and basil. These flavours marry well with a fresh sparkling wine such as a Pinot Grigio Brut or a Canti's Prosecco D.O.C. Millesimato. The non-aggressive character of these wines cleans the palate of the fat from the mozzarella and the abundant olive oil, both of which make real Italian pizza so special.