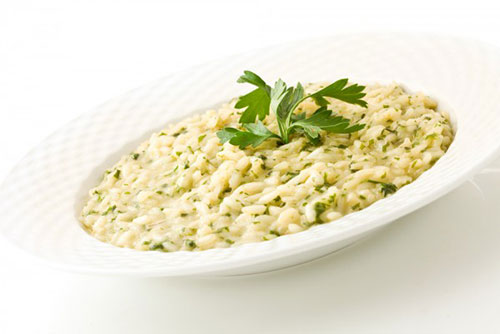 Whether the principal objective of the evening is a dinner with friends, drinking a toast to important news or simply spending a few hours in good company, there often a strong desire on the part of the hosts to impress even the people dearest to them with their culinary skills.
Here is a curious yet engaging idea, ideal for an early winter evening: it was put forward by the 1 Michelin Star chef Fabrizio Ferrari (restaurant Roof Garden in Bergamo), who, in dreaming up this recipe has tried to make everyone happy: the hosts, who can present their guests with a dish inspired by the best of Italian traditions, simple yet unusual, and the guests, who cannot but be impressed when presented with such an original recipe!
Whichever type of risotto you are familiar with, be it yellow with saffron, red with radicchio or white with parmesan – risotto is now a favourite all over the world – it has an infinite number of variations. This we can demonstrate with the following dish made with rice from the region of Pavia and… crumbled panettone.
Ingredients for 4:
51/2 oz (160 g) risotto rice (preferably Carnaroli)
21/2 oz (80 g) butter
21/2 oz (80 g) Grana Padano cheese
Meat stock
21/2 oz (80 g) panettone, cut into small cubes
Salt and black pepper
Heat the rice in a pan with 20gr of butter, then add the panettone cubes and continue heating, gradually adding the stock until the rice is cooked, it should take approximately 15 minutes. Add salt and pepper to taste. Finally stir in the remaining butter and the Grana Padano and leave to stand for 1 minute before serving.
The right accompaniment? A sparkling wine that isn't too dry, it should be light and fragrant, that pairs well with the sweet flavour of the panettone and cheese but at the same time refreshes the palate, such as a Prosecco DOC Canti.