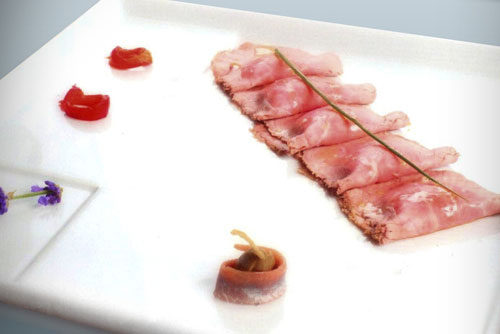 Feeling like serving something special this Easter? Here is another deli from the "Dream Cuisine" of Massimo Camia (Head Chef at Harrods): a delicate veal based dish!
Ingredients for 6 People:
600g rump of veal (the rump is a very lean part of the leg, it is also possible to use a centre cut of veal, preferably a small cut that has been hung for 10 days)
2kg coarse salt
1 sprig of fresh rosemary
2 cloves of garlic
2 bay leaves
20 black peppercorns
A glass of water
Tie the veal tightly with cooking string and brown lightly in a frying pan. Take a bowl and mix the salt with the herbs, peppercorns, garlic and water and stir until the salt is evenly moistened. Take a large baking dish, cover the bottom with about 1cm of the salt mix, lay the meat on top and cover with the remaining salt. Cook in the oven at 180°C/356°F and bake the meat for about 35 minutes. When cooked, remove the veal from the salt and allow it to remain under pressure (to do this cover the meat with paper or a towel and then place an object with a weight of around 6/7 kg e.g. two heavy cookbooks on top) for at least 2 hours to drain any remaining blood.
100ml soy milk
30g cold boiled potatoes
150ml extra virgin oil
Juice of half a lemon
4g fine salt
100g tuna in oil
6 desalted capers
3 anchovy fillets
Using a blender, whisk all the cold ingredients starting with the soy milk and potatoes, then slowly pour in the olive oil, adding the salt and lemon at the end. You should now have a very thick mayonnaise-like cream; add the remaining ingredients coarsely chopped (tuna, capers and anchovy fillets) to achieve a chunky texture.
6 salt packed anchovy fillets
Half a roasted red pepper
Cut the Veal into thin slices, place a spoonful of tuna sauce on each slice, fold into a meat pocket and arrange at least three slices on each plate. Garnish with an anchovy fillet, some caper berries and strips of roasted red pepper.
Perfect wine match is Pinot Grigio Brut from Canti – able to enthrall even the most demanding palates with its marvellouslly balanced flavour.